Profile

Free Account
Created on 2009-05-03 14:01:49 (#244532), last updated 2009-05-04 (437 weeks ago)
3,109 comments received, 0 comments posted
756 Journal Entries, 151 Tags, 0 Memories, 1 Icon

About

Mini Bio
Hi. My name is Jaimee and I am 23 years old. I am an education student in Brisbane, Australia and will be a primary school teacher in about 4 years--I started late).
My private journal (this one) is f-locked, but I'm pretty friendly and open so come on in. for those who just want me for my fanfiction, you want

charmafics
.
My wonderful journal layout was made by

snubbly
. Header is by

incompletechaos
.
Friends Only banner was made by

gypsyw0man
.
Awesome moodtheme by

miss_kallahan
. Instructions come from

crackified
You can find my Resource for any icons, banners, wallpapers and headers I make in this entry here:
http://charma-10.livejournal.com/32805.html
You can also find great R/Hr Drabbles, including some of my own right here:
My bling: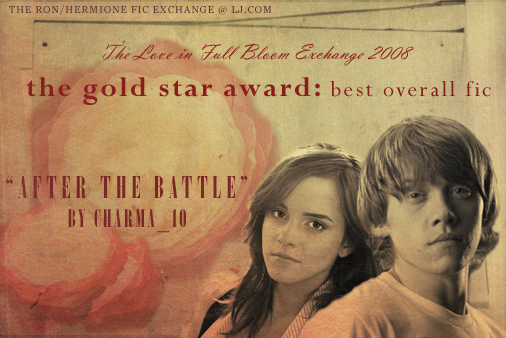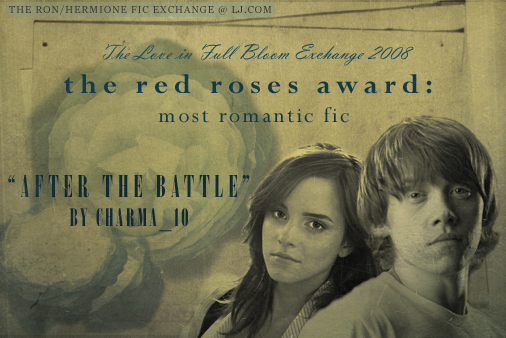 Connect
basketball
,
chuck
,
doctor who
,
fan videos
,
fanfiction
,
harry potter
,
harry/draco
,
hermione granger
,
house
,
house/cuddy
,
how i met your mother
,
hugh laurie
,
jill mansell
,
kyle xy
,
mcabby
,
movies
,
music
,
ncis
,
reading
,
ron weasley
,
ron/draco
,
ron/pansy
,
ronsexuals
,
rupert grint
,
sophie kinsella
,
the big bang theory
,
writing

People
[View Entries]

[livejournal.com]
almond-joyz
,
amieam
,
arlverde
,
belovedranger
,
blodeuwedd84
,
book-rapport
,
charma-10
,
charmafics
,
charmedashley
,
cuteej4
,
eruditefics
,
fics-by-llp
,
ficsbyqueenb23
,
fitzette-fics
,
fitzette
,
gabs186
,
gingeraled
,
girlspell
,
harrysmom
,
hey-rupert
,
hpaa
,
hpuckle
,
i-am-girlfriday
,
i-m-b00
,
iamshadow
,
janine42584
,
kacie223
,
kanedax
,
kath-ballantyne
,
kerosinkanister
,
kerrison
,
lillywmw
,
lnalvgd
,
love-tart
,
luvscharlie
,
magstopia
,
maple-mahogany
,
marthas-library
,
masterofmystery
,
midnight-birth
,
mrspadf00t1
,
mrsquizzical
,
natertatersmom
,
ofscarletwoman
,
oncelikeshari
,
ozma-katiebell
,
pigwithhairfics
,
queenb23more
,
rebirthnovel
,
redblaze
,
risiepookie
,
scribhneoir1
,
shadowfiction
,
shellyk
,
shocolate
,
shygryf
,
shyshutterbug
,
solstice-muse
,
spidergirl30
,
squeezles
,
stained-eye
,
star54kar
,
step-fics
,
still-infinity
,
stormsandsins
,
supergreak
,
thalialunacy
,
thenarnianqueen
,
thesteppyone
,
tjwritter
,
tqpannie
,
tqpcaptains
,
vivisco
,
wideworldsend
,
witch-fairy

Communities
[View entries]

Feeds
[View Entries]

Subscriptions (0)

Linking
To link to this user, copy this code:
On Dreamwidth:
Elsewhere: